Problem
Large buildings with deep volumes often have poorly lighted and unattractive interior zones. In large projects, individual houses are usually arranged in rows, and their flats are usually only accessible via vertical staircases. This often restricts communication between the residents. How can unattractive inner zones be designed and used to improve spatial quality, promote communication between residents and connect different uses?
Generic description
New forms of cohousing often have large building volumes and diverse space profiles, which are accessed through an internal spatial connection, the Rue Intérieure (Genossenschaft Kalkbreite 2014, p. 8). The Rue Intérieure is an internal horizontal connection between vertical access systems, often staircases. Le Corbusier already established the Rue Intérieure within its big residential buildings of post-war modernism, the so-called "housing machines" as a central community-shaping element that was imitated and varied many times. The corridor is mostly wider than necessary and thus replaces the traditional distribution corridors of residential buildings (Pié et al. 2020, p. 25) and allows diverse uses like sharing or meeting opportunities. It is often combined with other utilisation or sharing-opportunities and thus promotes neighbourly exchange. Furthermore, the Rue Intérieure ensures different combinable floor plan types (ARCH+ features 77, 2018) and the combination with vertical atriums.
Example
In the project Kalkbreite the Rue Intérieure, an internal development cascade, functions as the central artery of the building and creates connections between different units such as various common spaces and commercial and cultural spaces in the building. It creates a structural unit out of the seven staircases (Schindler 2014, p. 31). Starting in the hall, the Rue Intérieure is a meeting, exchange and residence point (Genossenschaft Kalkbreite n.y.) which offers various uses like an exchange board. It is a corridor that connects all apartments, common spaces, roof gardens and runs alternately on different floors (Genossenschaft Kalkbreite 2014, p. 8) through the energy- and form-efficient and therefore very deep building. Residents and guests can follow the Rue Intérieure in a loop through the entire building. This internal street is 2.5 meters wide, also serves as an emergency exit and has a sophisticated colour design, which creates an attractive visual experience and supports its guiding function.
Throughout the modern-interpreted passage, four light wells and deliberately placed views into and out of the apartments demonstrate a certain openness and create neighbourhoods. The residents are challenged to engage with the community
In the IBeB project, the Rue Intérieure is structured and illuminated by daylight courtyards. The wide corridor offers space for a variety of uses: in addition to benches, communal dining tables can be set up, it can be interpreted as an exercise space for sports or appropriated as an open space for artistic projects. Smaller gardening projects find space in the atriums. In this way, semi-public areas are appropriated and interlinked with the private sphere.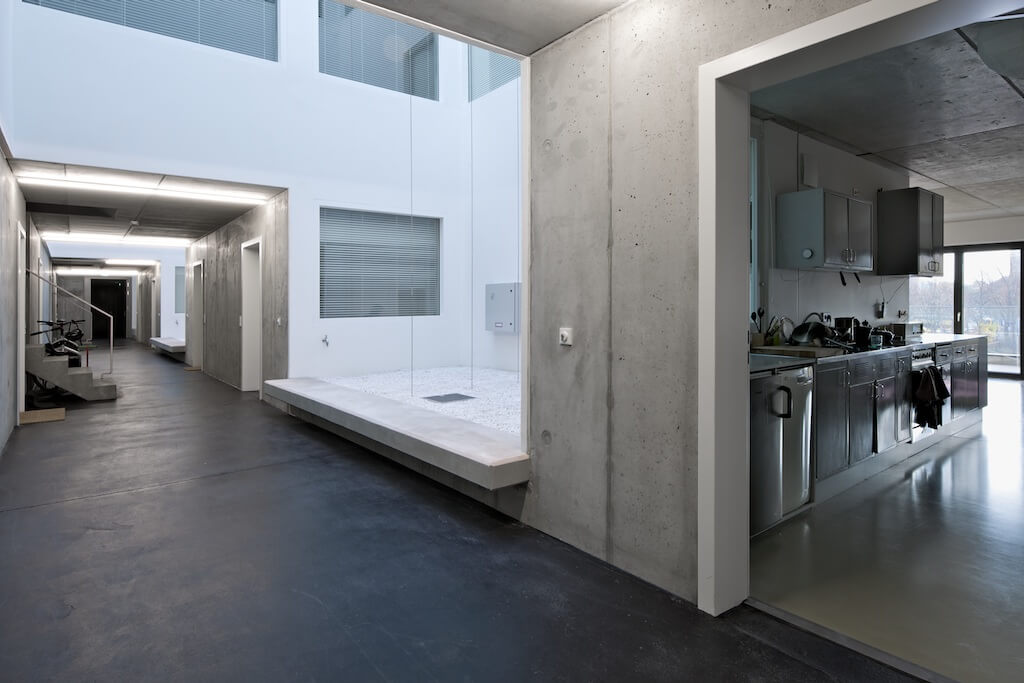 Lessons learned and synergies
The Rue Intérieure is a connecting element that forms a spatially attractive meeting zone. The transformation of the corridor from a mere access to a space of encounter and interaction is both cost-efficient and transformative. In addition, the Rue Intérieure allows for optimal use of deep buildings, enabling a new form and quality of living as well as collaborative working.
The Rue Intérieure shows how energy- and cost-efficient compact buildings can be used for a diverse mix of uses; it demonstrates the importance of aesthetically designing spaces that allow for multiple uses: not only access, but also encounter.
Sources
Genossenschaft Kalkbreite (2014): Die Kalkbreite – Ein neues Stück Stadt: Projektdokumentation Wohn- und Gewerbebau Kalkbreite. Genossenschaft Kalkbreite: Zurich. Accessed from https://www.kalkbreite.net/wp_website/wp-content/uploads/2018/12/Projektdoku_2014.pdf
Genossenschaft Kalkbreite (n.y.): General Rooms. Accessed on 11.02.2021 from https://www.kalkbreite.net/kalkbreite/gemeinsam-nutzen/allgemeine-raeume/
Pié, R., Rosa, C., Vilanova, J.M., Sabaté, J. & Porfido, E. (Ed.) (2020): TOURISCAPE2 – Transversal Tourism and LandscapeInternational Scientific ConferenceBarcelona, 5th-6th November 2020. UPCommons: Barcelona. Accessed from https://upcommons.upc.edu/bitstream/handle/2117/334803/9788498808551.pdf?sequence=5&isAllowed=y
Schindler, S. (2014): Kalkbreite. Bauwelt: Berlin. Accessed from https://www.bauwelt.de/dl/805493/bw_2014_39_0024-0031.pdf
Unknown author (2018): ARCH+ features 77: Ökonomien, Biografien, Situationen. Accessed on 02.03.2021 from https://archplus.net/de/features/17360-arch-features-77-konomien-biografien-situationen
Ziegler, F. (2019): IBeB: Integratives Bauprojekt am ehemaligen Blumengroßmarkt. In: DASH|Delft Architectural Studies on Housing Nr. 15, 146-155. Accessed from https://journals.open.tudelft.nl/dash/article/view/5104/4651