Problem
The increasing density of the cities is having an impact on the communal life in urban areas and hampers access to green and cultivated areas. Collectively run gardens offer inner-city space for relaxation as well as experimentation and cultivation areas. What potential do community gardens have regarding the emergence of human-nature relations as well as neighbourhood relationships, and what organisational prerequisites must be fulfilled in order to ensure shared use and responsibility?
Generic description
Community gardens are a special form of gardens. Constitutive element is the community, which takes collective responsibility for use, care and maintenance. In addition to self-supply and learning about and experimenting with cultivation methods, the focus is on neighbourly relations and working together. Usually community gardens are directly attached to the house or located on the roof.
Example
The community garden of Kalkbreite is located on the roof and is maintained by residents of the garden working group, but is open to all residents of the cooperative. Each gardening year is celebrated and concluded with a harvest festival. Similarly, at Spreefeld anyone can be involved in the low-tech agroforestry experiments, along with other farming projects on the site. Both the Spreefeld and the ufaFabrik, together with the Spreeacker non-profit association, is working to inspire and educate the public by organising workshops, educational programmes and with demonstrations of edible and productive landscapes and food forests.
At the CRCLR House the community garden is maintained by the community and neighbours. Each raised bed is shared by a group of four people. In addition, a greenhouse, which was built with secondary materials, offers warmer conditions for some plants. The worm compost provides nourishing soil for the plants.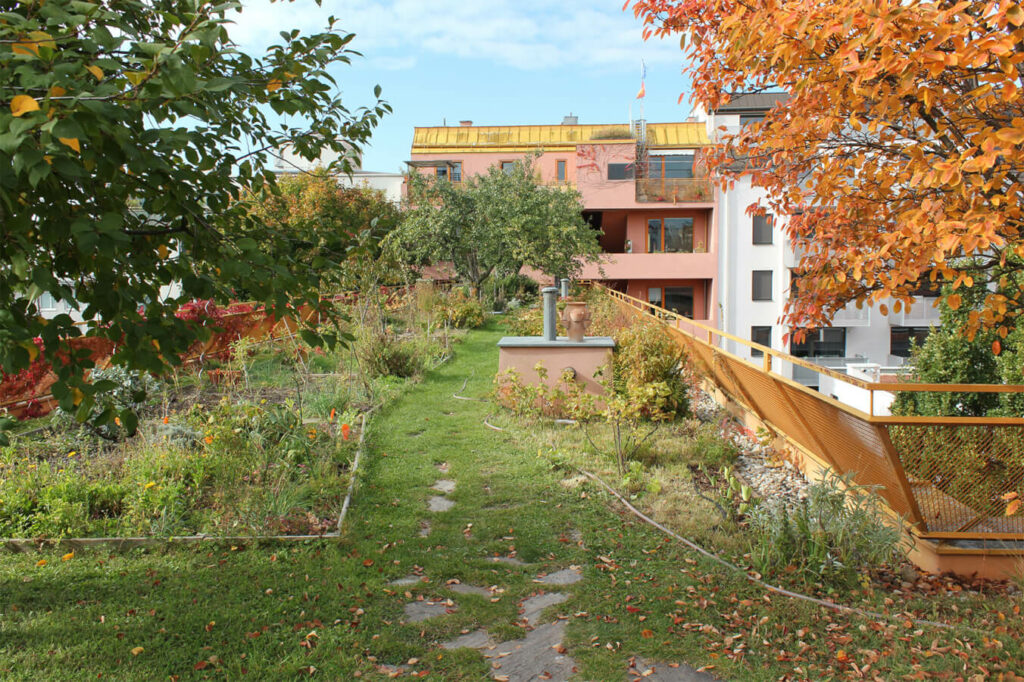 Lessons learned and synergies
Community gardens are places of integration of heterogeneous social groups as well as places, where relationships among tenants are strengthened. Community gardens stimulate encounters that can gradually solidify neighborly structures and social networks. Thereby they have the potential to bring people from various backgrounds and age groups in contact (BMUB 2015, p. 8).
After all, they only function through the commitment of many and only develop positive contributions within the neighbourhood when they cooperate (Neo & Chua 2017). The programmatic objective of the community garden however determines who comes together and gardens together (BMUB 2015, p. 8). Furthermore, community gardens are places of education: they enable the transfer of knowledge, an understanding of natural cycles to be gained and nature to be experienced in the city. In addition, community gardens allow healthy food to be grown locally and inexpensively and if scaled, urban community gardens could relieve the burden on urban supply structures (BMUB 2015, p. 9).
Sources
BMUB (2015): Gemeinschaftsgärten im Quartier – Handlungsleitfaden für Kommunen. Bundesministerium für Umwelt, Naturschutz, Bau und Reaktorsicherheit (BMUB). Accessed on 06.04.2021 from https://www.bmi.bund.de/SharedDocs/downloads/DE/publikationen/themen/bauen/wohnen/soziale-stadt-gemeinschaftsgaerten.pdf?__blob=publicationFile&v=3
CRCLR GmbH (2018): Community Garden. Accessed on 06.04.2021 from https://crclr.org/spaces/space_neukoelln/garden
Genossenschaft Kalkbreite (n.y.): Aussenräume. Accessed on 06.04.2021 from https://www.kalkbreite.net/kalkbreite/gemeinsam-nutzen/aussenraeume/
Neo, H., & Chua, C. Y. (2017): Beyond inclusion and exclusion: Community gardens as spaces of responsibility. Annals of the American Association of Geographers, 107(3), 666-681.