CRCLR House: is a centre
for circular economy practices in the sectors
of construction, living
and community.
The CRCLR House is being built in a section of the former Kindl brewery in Berlin Neukölln. The existing warehouse is being extended by a modular wooden panel construction, so that the building can accommodate residential and commercial uses. The aim is to create living, working and commercial spaces in which materials are recycled in accordance with the principles of the Circular Economy. Likewise, during construction, attention will be paid to the recyclability of materials, or secondary building materials will be used and disassembly strategies will be considered. For example, resources were conserved by installing second-hand windows. As part of the initial use, the existing building was made usable again with only a few interventions and was available for temporary use as an event venue, coworking space and artist studio for the CRCLR community. As soon as the building is finalized, the Impact Hub Berlin will move in and offer co-working spaces, lab facilities and an event program.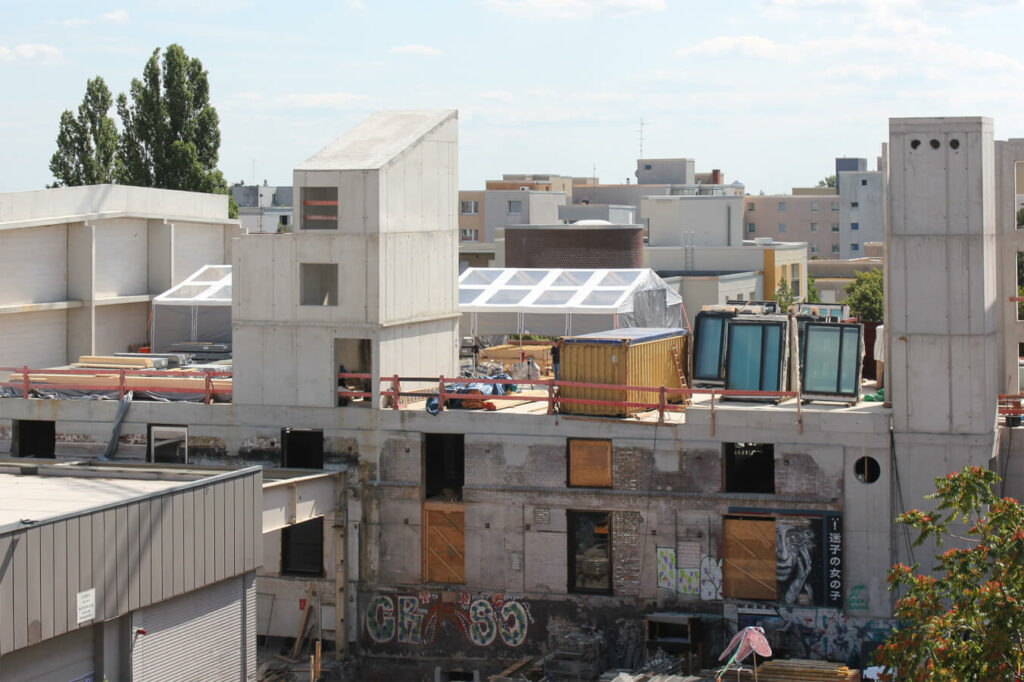 General information
Architects
Die Zusammenarbeiter GmbH


Owner
TRNSFRM eG


Address
Rollbergstraße 26, 12053 Berlin


Construction
period
2019 – now (2021)


Construction
former warehouse is upgraded and supplemented with a
timber construction


Residents / Space
BGF 6600 m2, living area 2.525 m², commercial area 2.346 m²
Sources
CRCLR GmbH (n.y.): Hub for Circular Economy. Retrieved from https://crclr.org (02.08.2021)
TRNSFRM eG (n.y.): CRCLR HAUS. Retrieved from https://www.trnsfrm.org/project/crclr/ (02.08.2021)
ZRS Architekten Ingenieure (n.y.): CRCLR HOUSE BERLIN-NEUKÖLLN, GERMANY. Retrieved from https://www.zrs.berlin/project/crclr-house-2/ (02.08.2021)