Spreefeld: is a project
for communal living
as well as working in downtown Berlin.
It is located on the shore of the river Spree between Mitte and Kreuzberg.
The cooperative Spreefeld Berlin eG constructed three residential buildings, which were complemented with rooms for commercial (e.g. offices),
public (e.g. kindergarten) and undefined uses (option spaces for non-commercial projects and temporary uses). A special feature are the two
large cluster apartments, which allow 600 and 800 m² of shared living
space with a variety of sharing options.
Spreefeld Berlin was built and is operated in a resource-saving way. The combination of a passive house construction with the production of their own regenerative energy by photovoltaik makes it an energy efficient building. In addition, the cooperative aims to support a sustainable way of living by providing a sustainable and long-term infrastructure as well as permanently affordable housing.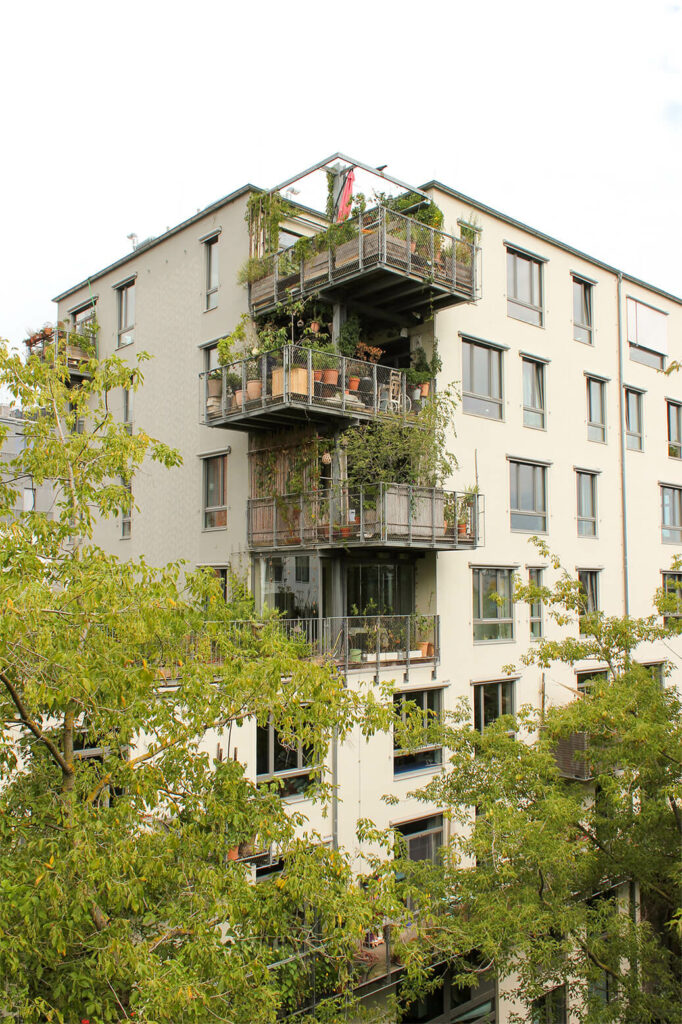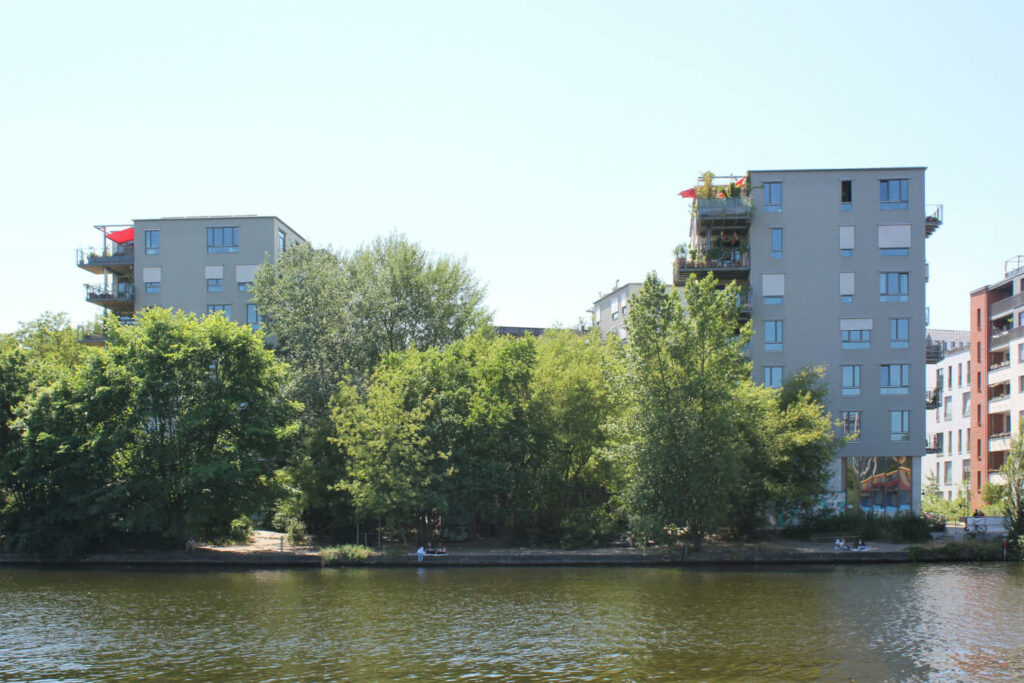 General information
Architects
carpaneto.schöningh & working group (ARGE):
BAR Architekten, FAT KOEHL Architekten
Owner
Bau- und Wohngenossenschaft Spreefeld Berlin eG
Address
Wilhelmine-Gemberg-Weg 10, 12 and 14, 10179 Berlin
Construction period
2012 – 2014 (new building)
Construction
Reinforced concrete skeleton with prefabricated
(exterior) wooden panels, passive house construction
Residents
140
Space
cross floor 9.500 m²
64 apartments with a size of 54-290 m²,
total: 3580 m² (47 %)
2 cluster apartments, total: 1905 m² (25 %)
community space 720 m² (10 %)
Sources
Bau- und Wohngenossenschaft Spreefeld Berlin eG (n.y.): Spreefeld Berlin. Retrieved from https://spreefeld.org (15.06.2021)
Carpaneto, S. (n.y.): Neubau: Spreefeld Berlin – Wilhelmine-Gemberg-Weg: Berlin Mitte. Retrieved from https://carpanetoschoeningh.de/carpaneto_schoningh_architekten/neubau___spreefeld.html (15.06.2021)
Ring, K. (2017): Nischen für alternative Lebensformen – Aktueller Wohnungsbau in Berlin/Enclaves for Alternative Forms of Living–Current Housing Construction in Berlin. In Schittich, C. (Ed.) (2017): best of DETAIL: Urbanes Wohnen/Urban Housing, 1st edition. Munich: DETAIL, 75-77.