Gleis 21: enables a different living through participation and personal contribution.
Gleis 21 was realized by the architects einszueins after a three-year planning phase. The way was paved by a participatory process between the future residents and the architects. Thereby, solutions were developed that were customized to the needs of the users, while at the same time providing sufficient openness for future reuse. The so-called "flex apartments (German: Flexwohnungen)" allow more flexibility and can be connected to the neighboring apartments. There are also guest apartments for temporary guests. The project was financed by shares of own funds, in addition to a housing subsidy from the City of Vienna contracted by the "Wohnprojekt Gleis 21" association.
Gleis 21 is part of the newly emerging Sonnenwendviertel district in the direct neighborhood of Vienna's main train station. Centrally located in the quarter, Gleis 21 with its vibrant first floor zone functions as a meeting point. In addition to the music school "Klangwerk", which is primarily intended for children, the media workshop offers education courses in media and digital technology as well as language courses. The multifunctional room "Saal 21" offers the possibility and equipment to be used as a theater, cinema or seminar room. The monthly cultural program held there is put together and curated by the "Kunst und Kultur Gleis 21" association, which was founded for this purpose.
Since all residents work 10 to 15 hours per month internally, a cultural event, for example, can be self-organized with their support. In addition, other working groups have been formed if needed. The organization and communication takes place either via social media or analogue on the common areas. The green roof terrace, the laundry room, the communal kitchen, the sauna, the fitness room, and the pergola, which serves both as access point and place to stay, as well as transition from the communal to the private, are all suitable for this purpose.
Gleis 21 was planned and realized in wooden hybrid construction and was prefabricated as far as possible in modular individual parts.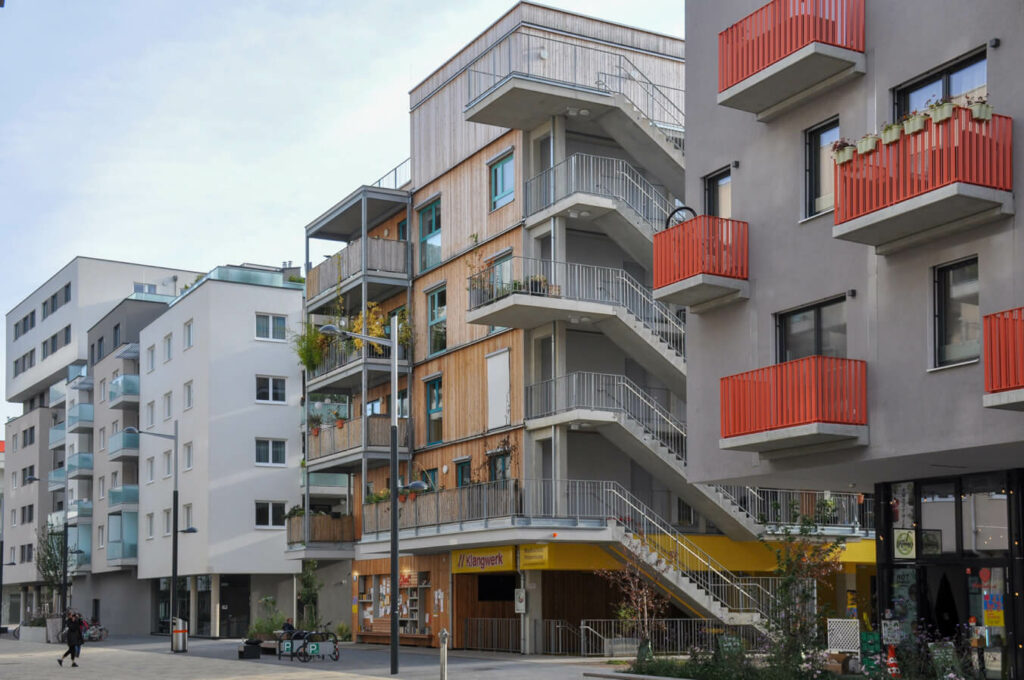 General information
Sources
Herold, Patrick; Felber, Veronika (2021): Gleis 21 einszueins architektur. In Arch+, 244, 192-195.
Verein Wohnprojekt Gleis 21 (n.y.): Gleis 21 – Das Haus. Retrieved from https://gleis21.wien/das-haus/ (01.11.2021)